NEWS
Foreign investment in Poland's economic transformation
The conference "Foreign investment in Poland's economic transformation - trade and services" took place on October 19th, 2009 at the Hyatt Hotel in Warsaw. The meeting was organised by the Institute for Market, Consumption and Business Cycles Research, the Polish Information and Foreign Investment Agency and the Polish Trade and Distribution Organisation.
Foreign trade chains began to appear in Poland in the 1990s. Foreign investors who entered the Polish market initiated the process of Polish trade modernisation and exerted a significant influence on the country's economic transformation. While during the 90s the general tendency was to copy trade formats from abroad, now Poland has been generating its own specific patterns. Experts claim that after the very dynamic 2001-2008 in the field of modern commercial centres, discount stores took over became more popular. The process has been influenced by the growing consumer requirements and client self-consciousnes. At the moment commercial enterprises account for around 30% of the total number of enterprises in Poland. Enterprises with foreign capital make up over half of the group.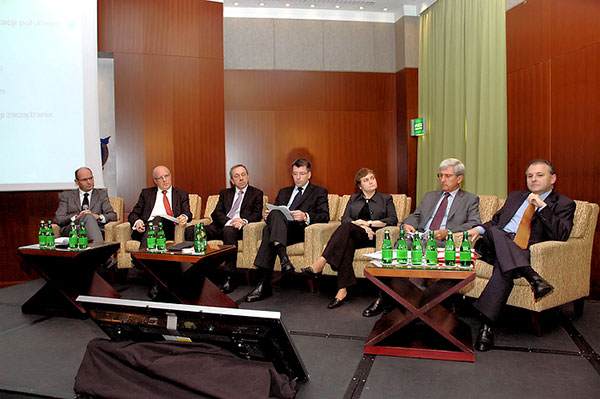 Radosław Rybiński,Wojciech Kruszewski, Czesław Grzesiak, Ivo Makówka, Barbara Borusiak, Lesław Kański, Witold Orłowski (Source: PAIiIZ)
Commerce development forecasts for Poland are optimistic. Among the major expansion directions in the field, there are logistic centres, supermarkets, wholesale of Cash and Carry kind, petrol stations together with trade and service infrastructure and commercial centres. Polish companies develop mainly on local markets and are expected to expand through consolidation processes and shop chains mergers. Polish companies are active primarily in retail sales (clothes, jewellery, shoes) Internet sales, food and pharmaceutical wholesale.
The following data confirms the fact that foreign direct investment plays an important role in the development of the Polish economy. Total FDI value accounts for around USD 170 bn. To date foreign investments in Poland generated 1.5 mln new workplaces. It is also worth emphasising that in companies with foreign capital productivity levels exceeds by 75% the levels achieved in domestic enterprises. Moreover, export tendencies in entities with foreign capital are 3.5 times stronger than in Polish companies and they tend to be more open and receptive to innovative solutions.
The current global crisis weakened the leading world economies. Due to the fact that Poland experienced a kind of "velvet crisis" the country positively stands out against the backdrop of the rest of European countries and reveals solid economic foundations and new investment possibilities. Entrepreneurs who have already been operating on the Polish market do emphasise the need to create transparent, long-term and stable regulations concerning particular trade spheres.
Go to top...
Conference "Investment climate in Poland"
The Polish Information and Foreign Investment Agency invites to a press conference "Investment climate in Poland" which will be held on October 27th, 2009 at 11 a.m at the PAIiIZ Information Centre.
During the conference a Polish research agency Gfk Polonia will present results of a survey on investment climate in Poland.
The conference will be held on October 27th (Thursday) at 11.00 a.m. at the PAIiIZ Information Centre in Warsaw at 12 Bagatela Str. In order to provide all the conference participants with the most comfortable work conditions, only accredited journalists with a valid press pass will be admitted. To confirm your participation contact Katarzyna Antosik at +48 22 334 99 16, katarzyna.antosik@paiz.gov.pl (PAIiIZ)
Go to top...
Conference "Investment opportunities in Lublin"
The conference was initiated by the President of Lublin. Its major aim was to present the city's considerable economic potential. The event was held on October 20th and enjoyed the patronage of the Polish Information and Foreign Investment Agency and the daily Puls Biznesu.
The presentation of Lublin's investment offer attracted over one hundred intersted guests, among them, potential investors, representatives of consulting companies, law offices and media. The meeting was attended also by heads and representatives of diplomatic posts accredited in Poland, among others, from the Embassy of Latvia, Italy, Spain, Croatia and Colombia.
The city of Lublin has been experiencing a dynamic development. Among numerous development factors certainly the considerable urban infrastructure investment outlays, dynamic development of Lublin sub zone of the Mielec SEZ and an efficient co-operation with PAIiIZ all play an important role and make the city more attractive for potential investors.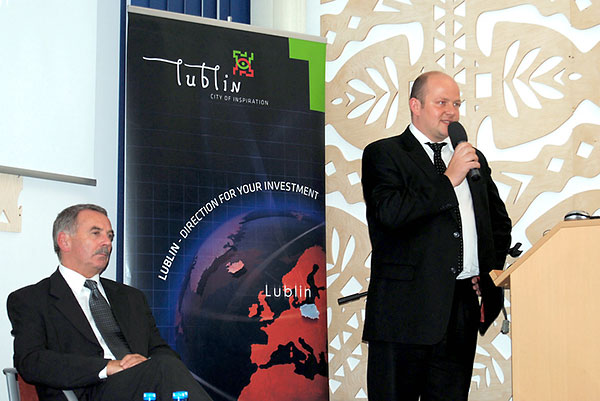 Mariusz Błędowski - Drector of Industrial Development Agency SSE Euro-Park Mielec; Tomasz Maciejak - Director of Genpact Cenre in Lublin (Source: Lublin City Council)
- Lublin is a city of great potential. Investment projects, which have currently been realised i.e. construction of an airport, the city's bypass and the implementation of a modern urban transport system will certainly improve the city's investment image and help Lublin enter international market - commented Paweł Tynel from Ernst & Young.
- As a representative of the city's authorities I perceive Lublin's economic development as an absolute prioroty and I want to declare that we are open to new projects. Every entity eager to invest in Lublin, let it be a big, international company or a local entrepreneur, may count on professional service and assistance on the part of local authorities - emphasised Adam Wasilewski, Lublin's president who invited investors to Lublin and encouraged everybody visit the investment-economic forum LUB-INVEST, which is to take place in June next year.
Go to top...
Investment mission to Germany
From October 26th to 30th the Polish Investment Mission will visit Germany to present investment opportunities in clean technologies in Poland.
Among the participants there are: PAIiIZ, BSJP in allaince with Taylor Wessing, Slupsk Special Economic Zone (SSEZ), Wałbrzych SEZ, Investor Assistance Centre - Łódzkie Voivodship Marshal's Office, Investor Assistance Centre - Podlaskie Voivodship Marshal's Office, City of Lublin.
Event is supported by Bundesverband Windenergie e.V., Fachverband Biogas e.V., C.A.R.M.E.N e.V., The Ministry of Econoomic Affairs and Energy of the State of North-Rhine Westfalia, The Federation of German Industries.
The meetings will be held in: Munich, (26th October 2009 on Biogas, Biomass and Waste-to-energy),
Düsseldorf (27th October 2009 on the subject of CLEANTECH), Hamburg (29th October 2009 on Windenergy).
The mission will be great occasion to meet several representatives of Polish authorities and Special Economic Zones who are ready to share their thoughts as to particular locations of the potential investment project in Poland.
PAIiIZ gladly invite german enterpreneurs to attend business events in Germany which consist an unrepeatable opportunity to discuss in details possible fields of cooperation.
For participation and direct meetings with the Polish delegation please contact Marta Kokoszka, tel.: +48 22 334 98 52, e-mail: marta.kokoszka@paiz.gov.pl.
Go to top...
Investment Forum - Good Practices in PPP
Investment Support and the Polish Information and Foreign Investment Agency invite investors interested in public-private partnership schemes to take part in an Investment Forum on Good Practices in PPP which will take place on November 18th, 2009 in Warsaw at the PAIiIZ Information Centre.

The aim of the Forum is to present projects to potential investors, to discuss co-operation possibilities and the best project realisation methods in the frame of public-private partnership.
The Forum will promote projects which were selected in the 3rd edition of the contest for the Best PPP Project and which will be realized as PPP ventures:
a project to renovate the Sopot station premises and to solve public transport problems in the vicinity of the station,

the best project concerns the extension of the Sport and Recreation Centre Kolna in Cracow,

a multi storey car park in Płock,

a Yatenga Museum in Żory.
Participation is free of charge (after registration).
For more information and registration form go to www.dobrepraktykippp.eu/forum.
Go to top...
7th Nationwide Export Leaders Ranking
The ranking aims at promoting Polish companies which effectively manage export connected activities. The event enjoys the patronage of the Ministry of Economy. Bank PEKAO acts as the events general sponsor.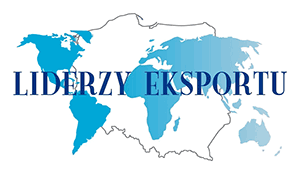 Every year the ranking Export Leaders enjoys a considerable recognition and interest both on the part of companies classified in the ranking as well as media and institutions active in the field of export. The ranking comprises of eleven categories: efficiency, profitability, sales dynamics, innovativeness, certificates, the amount of invested capital abroad, expansion, share in export, achievements, corporate social responsibility.
Among the highly classified there are companies with long tradition as well as companies which have been debuting on foreign markets. Former edition of the ranking saw the following companies classified on the highest positions: Ziołopex S.A, Zakłady Mięsne DUDA S.A, KGHM Polska MiedĽ S.A, Jelfa S.A, Polfa S.A, Avon S.A, Energoinstal S.A, Warszawskie Zakłady Zielarskie Herbapol, Young Digital Poland, Spółdzielnia Mleczarska Mlekpol, Volkswagen Poznań Ltd.
Export directly influences the pace of economic development of a given country, it supports competitiveness of the Polish economy and, what results equally important, creates a positive image of the Polish enterprise on international scene.
The need to organise and also expand the ranking - connected research and publications was confirmed by the extent of interest generated in previous years and the positive evaluation of previous editions expressed by export organisations and institutions.
On behalf of the organisers we invite to take part in the ranking. For more information on the ranking's regulations and registration form go to www.liderzyeksportu.pl. (Amadeus Art)
Go to top...
INVESTMENTS IN POLAND
The Portuguese invest in one of the biggest wind farms in Poland
"Margonin Wind Farm" constructed by a Portuguese EDP Renewables was officially opened. The project envisages creation of sixty 2 MW turbines.
EDP Renewables, forming part of EDP group, opened one of the biggest wind farms in Poland. The Margonin-based investment worth EUR 166 mln is an ambitious energy project geared not only towards customers in Poland but also in other CEE countries. The first stage of the project was realised within a year. The created complex of 60 turbines will generate enough energy to provide yearly energy supplies for 50,000 households. The overall productive capacity of the farm in Margonin will equal 120 MW i.e. around half of the overall capacity of all the wind farms currently active in Poland. The investment will not only be beneficial for the Margonin commune in that it will create new jobs but will also entail road and other infrastructure elements' modernisation. The official inauguration was attended by representatives of Margonin authorities, the town's mayor Leszek Łochowicz and delegates from the investing EDP Renewables - president Antonio Mexia and deputy president Ana Maria Fernandes (AICEP Portugal Global)
Go to top...
MACROECONOMIC POLAND
Prices and services more expensive since September - the Ministry of Economy comments
As it was previously forecast by the Ministry, September saw the prices of goods and services rise by 3.4% y-o-y. The Ministry expects the prices to stabilise in October.
Annual price indicator for 2009 is thus expected to stay at around 3.1%. (Ministry of Economy)
| | | |
| --- | --- | --- |
| | Buy | Sell |
| USD | 2.7542 | 2.8098 |
| EUR | 4.1270 | 4.2104 |
Source:
www.nbp.pl
Go to top...
FROM THE REGIONS
Lublin inaugurates a Science - Technology Park
The official opening of the Science - Technology Park took place on October 9th in Lublin. The Park will provide support to institutional co-operation established between Lublin universities and business circles.
The official opening was attended by, among others, Elżbieta Bieńkowska - Minister for Regional Development and Krzysztof Hetman - Undersecretary at the Ministry of Regional Development who is in charge of the realisation of the Operational Programme Development of Eastern Poland (OP DEP).
During the ceremony, which was organised to jointly celebrate the Park's opening and the 40th anniversary of the Central Apparatus Laboratory of the University of Life Sciences in Lublin, guests could see a presentation of one of the OP DEP projects which consists in providing new equipment for the needs of the Laboratory. The entity is the first laboratory in Poland which offers possibilities to investigate all food products - from vegetables and fruit to biofuel. CLA comprises of 10 laboratories which were equipped recently and now offer for use a PLN 22 mln worth laboratory systems. (LPNT)
Go to top...
Enterprise Incubator in Stalowa Wola
Stalowa Wola will have an Enterprises Incubator. The project, worth PLN 18 mln, will be financed from the Eastern Poland Development Programme.
The Incubator will start operating next year. Its major aim will consist in creating favourable and prefferential conditions for recently established companies and the existing business entities.
Local authorities want the Incubator to attract companies active in new technologies, stimulate local economic circles and boost the region's competetiveness.
The project took part in the contest "Przymierz się", organised by the Ministry of Regional Development. (PAP, www.stalowawola.pl)
Go to top...
ANALYSES AND REPORTS
EBRD: Polish economy to grow 1.8% next year
Economists from EBRD estimate that the Polish economic growth this year will reach 1.3% and next year 1.8%.
The bank revised also economic forecasts for countries in Central Europe and for the Baltic states. In these countries GDP is expected to fall by 3.4% in 2009 and next year it is expected to rise by on average 1.2%.
According to the bank's experts this year's GDP in Poland should hover at around 1.3% and in 2010 is bound to rise slightly and reach 1.8%., what places Poland in a fairly good position against the situation in other countries of the region. Indeed the latest forecasts are considerably better than those issued for Poland in May which stated 0% and 0.8% for 2009 and 2010, respectively. (PAP)
Go to top...
Labour market grows - a raport by Confederation of Polish Employers (KPP)
Confederation of Polish Employers (KPP) estimates that after the first half of the year the situation on Polish labour market improved. The number of employed people is on the rise.
Experts from KPP assess enterprises in Poland show considerable activity which is reflected in their inclinations to hire new people. Polish companies do manage to increase their production capacity what results in a slow but steady increase in employment.
As of the end of the first half of the year - data from the labour market monitoring run by the Central Statistical Office - there were 15.9 mln employed people in Poland i.e. 158 000 more than at the same time last year. The number of professionally active people also grew and the employment rate rose by 0.3%. Considerable increase could be observed in the group of employed people over 45 and more years of age. (KPP)
Go to top...
DID YOU KNOW...?
7 architecture wonders of ¦l±sk
Silesia TV and mmsilesia.pl organised a plebiscite for the 7 architecture wonders of the region. Several thousands Internet users cast their votes and selected 7 most interesting buildings in the region.
The 7 ¦l±sk architecture wonders include the Bytom Market Square, the Szombierki thermal power station, Katowice-based Spodek, Tyskie Brewery, a palace and a park in Pszczyna, the Mater Dolorosa Cementary and the Krystyna pit-shaft.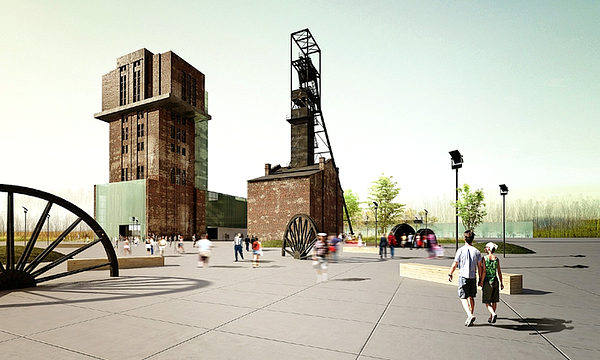 Krystyna pit-shaft from outside (Source: GC Investment Spółka)
- Every well-thought promotion form of our region is good. I am pleased that media join in such actions and help us show the attractive sides of ¦l±sk. The contets generated a greater-then-expected intrest among Internet users. The several thousands votes do testify to the fact that people identify with the region and want other people to see its values. The region is a wonderful place which may help people shape their sens of beauty and stimulate imagination - said Bogusław ¦migielski, ¦l±sk'a Marshal during the official cremony. (mmsilesia.pl)
Go to top...
---

Editorial office:
Polish Information and Foreign Investment Agency, 00-585 Warsaw, Bagatela Street 12
Economic Promotion Department, tel: (+48 22) 334 98 15, fax: (+48 22) 334 99 99,
e-mail:
redakcja@paiz.gov.pl